Purpose: (70 ILCS 3705/11) The board of trustees of any such public water district has the supervision and control of all waterworks properties acquired or constructed by the district and has the power and the duty to maintain, operate, extend and improve the same. The board of trustees also has the power to sell and dispose of property, real and personal, that is no longer needed for its purposes.
Composition: (70 ILCS 3705/4) (from Ch. 111 2/3, par. 911) Section 4. A board of trustees consisting of 7 members for the government, control and management of the affairs of the business of each such water district organized under this Act shall be created in the following manner: (4) If the district is located in more than one county, the number of trustees who are residents in that county shall be in proportion, as nearly as practicable, to the number of residents of the district who reside in that county in relation to the total population of the district. Trustees shall be appointed by the county board of their respective counties, or in the case of a home rule county as defined by Article VII, Section 6 of the Constitution of 1970, by the chief executive officer of that county with the advice and consent of the county board.
The board appointments have six (6) members from Will County and one (1) member from Grundy County.
Appointed Members/Board of Trustees:

Charles Schad, Chairman (Will)
Roxanne Foote, Vice-Chairman (Will)
John Slanicky, Trustee (Will)
Fena Blottiaux, Trustee (Will)
Robert Floyd, Trustee (Will)
Frank Willis, Trustee (Will)
Jean Willis, Trustee (Grundy)
Meeting Date/Time:
Every 3rd Wednesday, 5:00 p.m. at the Godley Public Water District Treatment Building, 440 So. Center St., Godley, IL 60407
Staff:
Brent Cosgrove, Water Supply Operator
Joe Cosgrove, Secretary/General Manager
Linda Schott, Treasurer
Kathleen Elliott, District Attorney – Robbins, Schwartz
Michael Gingrich, District Engineer – Gingrich, Gereaux & Associates (MG2A )
Water System Resources:
Active Well – Well #4 – WL01854
Type:  Sandstone
Depth:  955'
Diameter:  12"
Date completed:  09/11/2009
Well upgrades:  –
Pump: Goulds, 200gpm
Emergency Well – Well #3 – WL01406
Type:  Sandstone
Depth:  950'
Diameter:  12"
Date completed:  09/11/2009
Well upgrades:  07/31/2012
Pump: Grundfos, 200gpm
Water System Process:
Raw water is pumped from Well #4 to a mechanical aerator to remove hydrogen sulfide, and is collected in a 4,000 gallon basin. Two high service pumps alternate bringing the raw water into a horizontal pressure tank (Tonka System) for radium removal. Pre-chlorination and HMO (Hydrous Manganese Oxide) processing is completed before the raw water enters the pressure tank. Finished water is then post-chlorinated and pumped into a 186', 200,000 gallon spheroid elevated water tank for distribution.
After storage or on demand from the treatment building, pressure is regulated at 54psi by pressure reducing valves prior to distribution to the households. Potable water is furnished to the Godley Park District Community Center at tower elevation pressure (at 70psi) as required for their fire sprinkler system.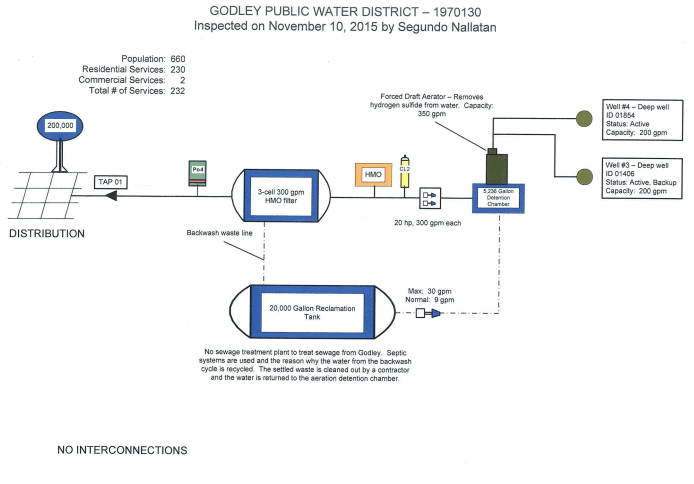 Monthly Water Report:
| | | |
| --- | --- | --- |
| For the month of: | Average daily number of gallons processed: | Monthly total number of gallons processed: |
| December 2014 |  45,104 |  1,398,232 |
| June 2014 | 48,481 | 1,454,434 |
| December 2013 | 41,766 | 1,294,750 |
| June 2013 | 46,314 | 1,389,421 |
| December 2012 | 34,137 | 1,058,259 |
| June 2012 | 42,801 | 1,284,024 |
| December 2011 | 38,471 | 1,192,596 |
| August 2011 | 9,754 | 302,377 |
As of August 1, 2014, the months with the highest daily average number of gallons processed were:
May 2012, 53,219 gallons daily
July 2014, 50,366 gallons daily
January 2013, 50,059 gallons daily